| | | | |
| --- | --- | --- | --- |
| Italfood Suggestions recipe: Tagliatelle with butter, sage and sauerkrauts!! | | | |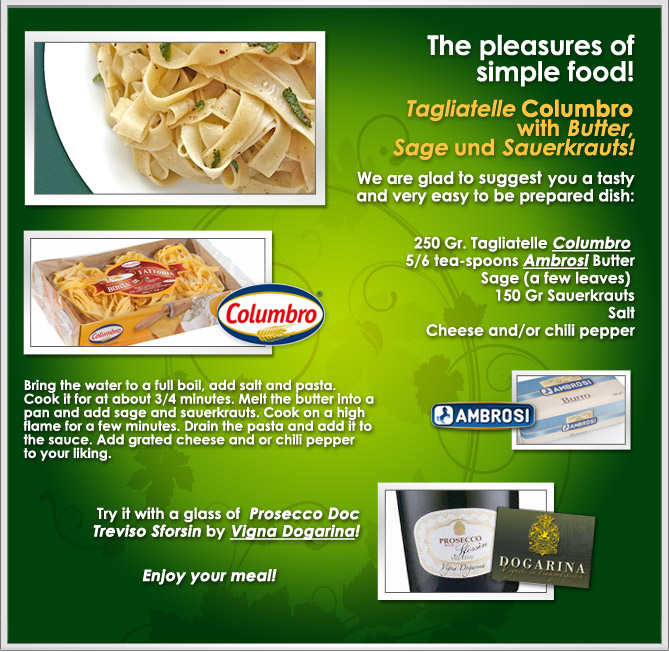 Pastificio Columbro Tagliatelle

 

Italian Typical Egg Pasta "Bonta' di Fattoria" Line

Ingredients: Durum wheat semolina, water, egg 19,36 %


Available 250 gr and 500 gr pack










Sforsin Prosecco DOC Treviso

lts name tells a story of the old ways of bottling when our ancestors used to keep the cork in the bottle by tying a string, called "Sforsin", around the top. In respect to tradition, this antique method celebrate the area & history that characterized the first Prosecco production for "frizzante" style wine from Campodipietra.
Varietal: Glera. Production zone: Colli Treviso (TV).
Training system: Guyot, Capuchin.
Climate: Cold winters with hot, dry and ventilated, with good daily temperature.
Winemaking: Mechanical and manual collection, Clean and cooling of the grapes, Clean the must for settling, Controlled temperature fermentation
Aging: Pressure tank. Bottle aging: 1 month.
Serving temperature: 5-7 ° C.










ITALIAN BUTTER

Packaged butter, made with cream obtained from only Italian milk.
Ingredients: Cream of milk
Crust: -
Structure: Stop
Consistency: strong, average spreads
Color: White
Taste: Delicate, fresh, diacetyl
Seasoning: -
TMC: 105 days
Technology: pre-packaged in polythene, 250g or 500g packs





---